Safe Sanctuaries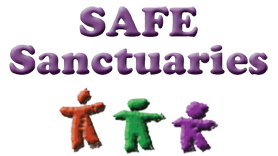 SAFE SANCTUARIES
The Safe Sanctuaries policy of the United Methodist Church promotes compliance with state laws and church rules designed to reduce the risk of abuse* in the church for children and youth. The complete Fishing Creek Salem Safe Sanctuaries policy provides more information.
*To report suspected abuse, click here.
Who Needs Safe Sanctuaries Certification?
All church employees and any unpaid volunteer who is responsible for a child's welfare or who has direct volunteer contact with children must be Safe Sanctuaries certified. You may use this list of church ministries to determine if your ministry area requires Safe Sanctuaries certification.
How to Obtain Safe Sanctuaries Certification
Thank you for helping Fishing Creek Salem United Methodist Church a safe and welcoming place for everyone. The following requirements must be completed to become Safe Sanctuaries certified.
1. Obtain background clearances required by Pennsylvania State Law. If you already have valid clearances from your job or another volunteer position, you may provide those to the church. Clearances obtained for employment purposes are acceptable for volunteer purposes, but clearances obtained for volunteer purposes are not acceptable for employment purposes.
Employees should contact their employers to determine the appropriate code to use (such as 1KG738 for Child Care Services/Program Employee or Contractor or 1KG756 for Employee >=14 Years Contact w/ Children). Employees must obtain current fingerprint-based FBI criminal background checks.
Unpaid volunteers should use the DHS code 1KG6ZJ; however, unpaid volunteers who have lived in Pennsylvania continuously for the past 10 years may alternatively swear or affirm in writing that they are not disqualified from service based upon a conviction of an offense under §6344 submitting a completed and notarized affidavit instead of obtaining the fingerprint-based FBI criminal background check.
2. Complete Safe Sanctuaries training by registering at https://www.smart-trak.com/susquehanna/default.aspx; note that Fishing Creek Salem UMC is in the York district. Print your certificate when you complete the training.
3. Forward all documents along with the Safe Sanctuaries training completion certificate to Director of Children's Ministries Tracey Michelsen ( ) for approval.
Once approved, an individual's Safe Sanctuaries certification will remain valid for 60 months from the earliest completion date of the required clearances and training. For more information, please contact Director of Children's Ministries Tracey Michelsen ( or 717-938-1928 ext. 103). Certified employees and volunteers must complete these requirements prior to their certification expiration to remain certified and avoid a lapse in certification.